The HilaCo farm's story is about a child who once walked through a field of tiny plants, laughing and touching them! With his little hands, he planted seeds in the heart of the soil, and he lullabies them with his childish talks. And now they're like fruitful trees, with all the joy and delight of children seen in the fruit they yield each year!
It symbolizes all of the labor and hardship put in by the hands that created acts of kindness under the Farm's naturally rich soils, along with the warm days and cool nights, produce ideal growth conditions for the great snack – heart-healthy nuts that are a fantastic source of fiber that are beloved by people all over the world.
And today, as a result of our sincere efforts with love, from the bottom of our hearts, and in appreciation for the kindness that has been shown on our farm to consumers all over the world, we are the Hilaco Connection Bridge.
Iranian Pistachio's History
Pistachio agriculture and trading in Iran dates back thousands of years, with around a century of industrial production and agricultural export. Iranian pistachio nuts are versatile and globally loved as a snack and as an ingredient due to their distinctive organoleptic features.
What is the unique attributes that make Iranian pistachios desirable for their international customers.
Because of their increased oil content, several pistachio nut types from Iran have a strong flavor character. Because of the high oil content, Iranian pistachio nuts may be roasted at higher temperatures, bringing out their distinct flavor.
Pistachios from Iran come in a wide range of colors, shapes, and sizes. This provides customers in various regions of the world with a larger range of options.
meat content is ten percent more on average than other origins. On a business level, the enormous number of Iranian pistachio producers, buyers, exporters, and importers ensures perfect competition in the market.
Pistachio is known as "Queen of Nuts" and they are also called "Happy Nuts" because of their cracked shells that look like smiles.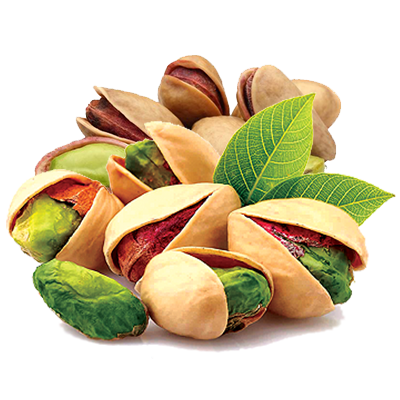 Pistachio Ahmad aghai( Long)
Pistachio Fandoghi(Round)
Pistachio Akbari( Super Long)
Pistachio Kalechuchi(Jumbo)
Green peeled kernel
Pistachio kernel chips
Long Pistachio
The Long type included lots of subsets. The most 2 famous subsets are Akbari and Ahmad Aghae
The essence of Iran comes from Rafsanjan, the city of dynasties, and is represented by this green powder. Choose from slivered, crushed, coarse, or fine pistachios made from sun-dried kernels. It's a lean, green taste machine and the baker's favorite. Add this wonderful powder to your sweet and savory meals for significant color and outstanding texture.
The basic material, pistachio shell, is crushed and sieved either into fine powders or coarser granules to produce our pistachio shell powder. It is carefully screened to meet the highest quality standards and is obtained from local sources up to a weight of 400kg.
Pistachios are increasingly in demand on both the domestic and global markets. Pistachios, or the soft nut within the shell, are a good source of fiber, protein, B vitamins, thiamin, manganese, magnesium, and iron. As a "superfood," they may be found in wholesome health meals, vegan and vegetarian dishes, desserts, and cereal mixtures.